春光照耀下
Under the Spring Sunshine— Art Project
2020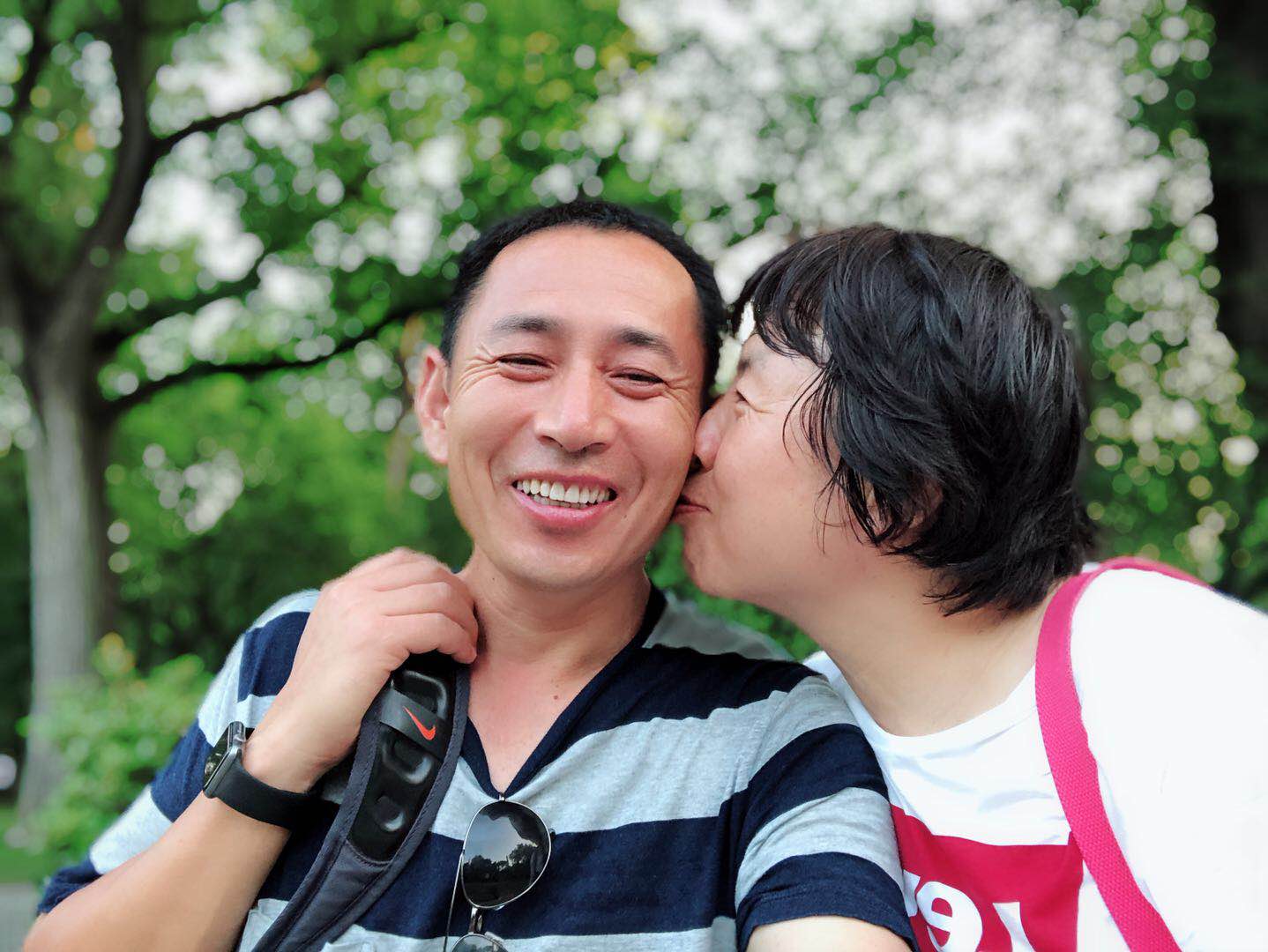 Chun Guang 春光
"春光 Chun Guang"
is my father's name, which translates directly into English meaning "sunshine in the spring day". My father was born on October 1, 1969 in the village named Da Jia Wa (大家洼) of Shouguang, Shandong Province, a very ordinary northern village in China. My father is the eldest son of the family and the also one of the earliest university students in the entire village. In a time when the basic needs' material was extremely scarce, it was extremely difficult for a family to fund a child to complete university. Even so, my grandfather still tried his best to help my father complete the study.
My father is a bridge engineer. In the past 20 years, my father and his team have built more than 200 bridges in Shandong Province. And I grew up with my father's support and became an artist. My father built so many bridges on the land, but did not build the bridge between a father and son. Or, in those past years, both of us have not try to build up that bridge. But it is also because the bridges that stand on the land make me come here today.
"春光"
是我父亲的名字,直接翻译成英文的意思是"sunshine in the spring day"。我父亲于1969年10 月1日出生于中国山东省寿光市大家洼村,一个在中国极度普通的北方村庄。父亲是家中长子,也是整个村庄在那个年代为数不多的大学生。在那个物质极度匮乏的年代,一个家庭资助孩子完成大学学业是极度困难的。即便如此我的爷爷依旧想尽办法资助我父亲完成了大学的学习。
我的父亲是一位桥梁工程师。在过去的20年内,我父亲和他的团队在山东省境内建设了许多铁路桥,而我在我父亲的资助下成长长大并成为了一位艺术家。我的父亲在大地上建立的那么多桥,却没有建设起我们父子间的那一座桥。或者说这20年来,我们彼此都没有花心思去建设那座桥。但是也正是因为那些一座座耸立在大地上桥才让我今天走到这里。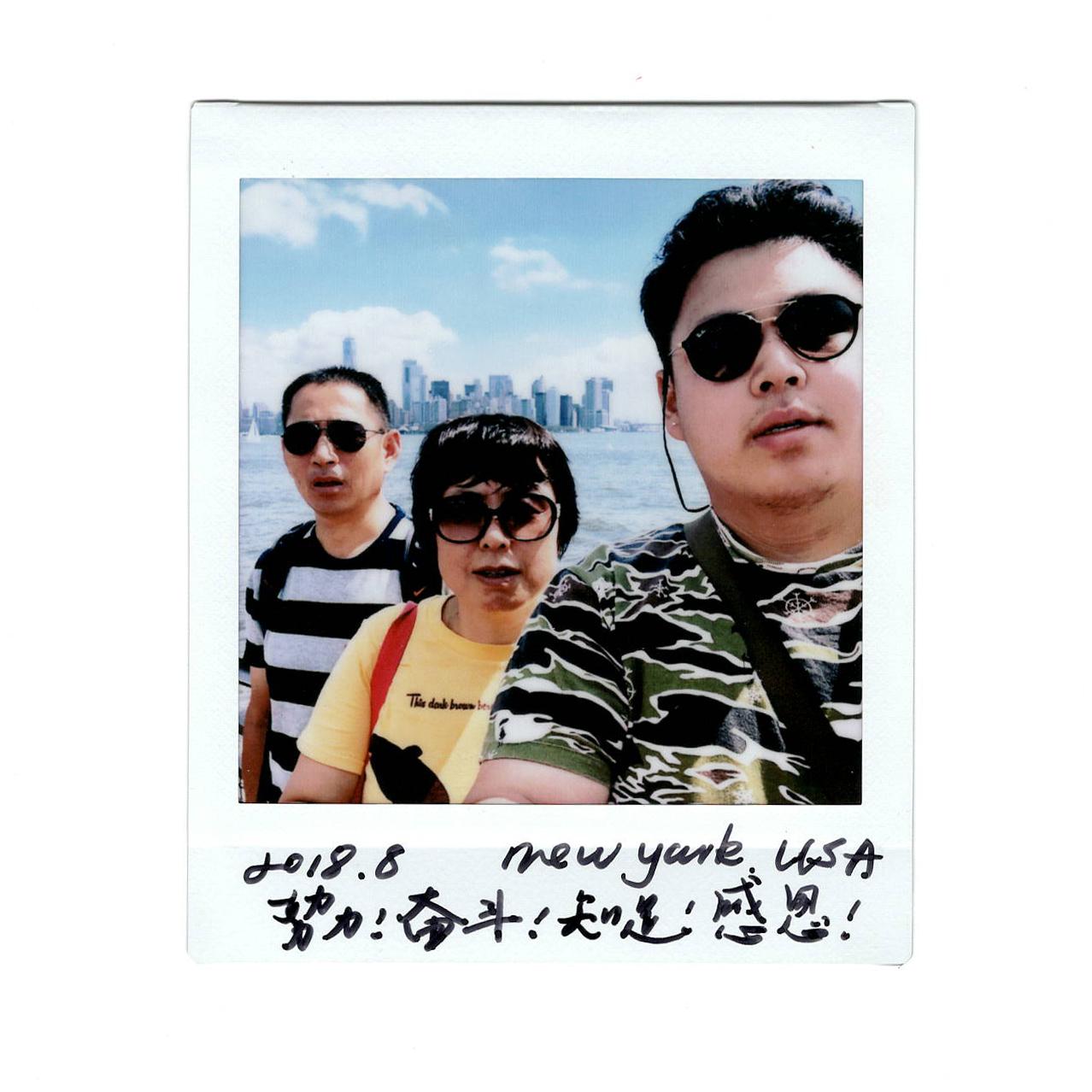 Family 家庭

Family seems to be a topic that everyone can't get around. Father, mother, son, daughter, siblings. Based on different cultural backgrounds, different questions have been raised by people all over the world. What does family mean to me? In my narrow worldview, if a person is a basic social element, then the family is like a basic social unit. We come from this unit and belong to this unit. We exert the personality and qualities that this unit gives us through various social actions. Based on the different roles, each unit will generate different relationship attributes and generate new social forms, just like the different arrangement and connection of carbon atoms in a substance form millions of different life forms.
I was born in an ordinary traditional middle-class one-child family in China. Restricted by social rules and historical conditions, Chinese society has given these families different tags:
Ordinary
describes that members of this unit have no special social treatment or status.
Traditionally
describes the cultural acceptance of this unit.
Middle-class
describes the economic situation of this unit.
One-child
describes the basic structure of this unit: a father, a mother, and of course, a child.
Looking back at the various trajectories of Chinese history, the only child (the only son) often bears huge family responsibilities and common social responsibilities. The will to succeed and continue the family is higher than the personal development and interest in Chinese culture. Of course, it is the responsibility of every child to assume expectations, since they are still in the mother's womb. It is also a poetic thing for children to prolong the lives of their parents. My birth and growth are also a long-term surprise for my parents. No matter how rebellious I used to be, in the end, I couldn't look back on my way to "becoming my father".
家庭似乎是每个人都无法绕开的一个话题,爸爸,妈妈,儿子,女儿,兄弟姐妹。基于不同的文化背景,不同的问题被全世界各地的人提出。家庭到底之于我意味着什么?在我狭小而不健全的世界观里,如果一个人是一个基本的社会元素,那么家庭如同一个基本的社会单位或单元。我们来自于这个单元,隶属于这个单元。并通过我们的意志发挥着这个单元给与我们的性格和品质。基于角色的不同,每个单元内又会产生不同的关系属性而产生新的社会形态,就像一个物质里碳原子不同的排列和连接方式形成了千万种不同的生命体。
我出生于中国的一个普通的传统的中产独生子女家庭,受到社会规则的制约和历史情况的影响,中国社会又给予了这些家庭不同的标签。普通,描述了这个单元的成员并没有特殊的社会优待或地位。传统的,描述了这个单元的文化接纳度。中产,描述了这个单元的经济情况。独生子女, 描述了这个单元的基本构成:一位父亲,一位母亲,当然,一个孩子。
回看中国历史的种种轨迹,独子(唯一的儿子)往往承担着巨大的家庭责任和普知的社会责任。接替与延续家族的意志在中国的文化中要高于个人的发展和兴趣。当然,承担期望是每个孩子的责任,从他们还在母亲的腹中的时候就是如此。孩子做为父母生命的延长也是一件多么诗意的事情。我的出生和成长对于父母来说也是一个长久的惊喜。无论我曾经多么的叛逆,最终我都在迈向"成为我父亲一样的人"的路上不能回头了。
Art, Family, Artist 艺术,家,艺术家

My entry into the realm of art is actually not something that my parents expected. And eventually becoming an artist also different from what my parents expected of me. My father and mother are engineers. From rigorous drawing and measurement to overall design and manufacturing, these are the daily routines of their work. I thought art had nothing to do with this, but after several years of exploring myself as an artist, I suddenly realized that what I was doing was actually the same as what my parent were doing. Or everything is connected. In this way, I slowly felt that I was becoming "him". No matter how many times I have denied it. I am finally following or continuing my father 's and mother 's footprints.
When I was an undergraduate at the Central Academy of Fine Arts in Beijing, it was probably because too many new ideas and facts entered in my brain in just a few years. Maybe it's because I live in a city like Beijing with the richest political landscape in the world. Or perhaps it was driven by rebellious and critical consciousness squeezed through years of mechanical education. I spent a lot of time focusing on the the bottom social groups, the identity of citizens in new cities to historical regrets and political surveillance. I am still attached to these topics and will continue to explore them. But while I was constantly exploring my external space, some things also happened in my internal space. Especially after I came to the United States to study and left home thousands of kilometers.
我进入艺术的领域其实并不是出乎我父母意料的一件事,但是最终成为艺术家或许和我父母最初的对我的期待不同。我的父亲母亲都是铁路相关的工程师。从严谨的制图和测量到统筹的设计和制造,这些是他们工作的日常。我本以为艺术与这毫不相关,但经过几年自居为艺术家的探索后,我突然意识到,我在做的和父亲母亲在做的其实是一回事。或者说万事万物都是相通的连接的。也就这样我慢慢的感到我正在成为"他"。无论我曾经多少次否认过,我还是最终在追随或延续我父亲母亲的足迹。
我在北京中央美术学院读本科的时候,或许是因为在短短的几年中太多的新思潮和被掩盖的事实进入我的大脑。或许是因为我在北京这样一个拥有世界最丰富的政治景观的城市里生活。又或许是经历了多年机械式的教育而挤压的反叛和批评意识的驱使。我用了大量的时间集中于讨论政治话题的探索和讨论。从探讨政治景观、社会底层群体、新城市公民的身份认同到历史遗憾和政治监视。我现在依旧留恋于这些话题并会继续探索他们。但是当我在不断的探索我的外部空间的同时,一些事情也在我的内部空间发生。尤其是在我来到美国学习,离开家几千公里之后。
50 Years Old 五十岁

In 2019 my father is 50 years old. Due to the studying here in the United States, I was not able to celebrate this birthday with him personally. But this birthday has become an important point in my art. I suddenly realized that I spent too much time in the past few years exploring what happened in this world without caring about the changes in my heart. On the one hand, because I focused on the exploration of art topics, I reduced the time spent with them. On the other hand, due to this physical distance separation. My father and mother are getting older while I exploring my art path here in the USA.
No matter what I have today, it is all thanks to my parents. They gave me the greatest help and support they could do. So after finishing the "United Arena", I stopped. I seriously recalled my relationship with my family, especially my relationship with my father. Because on the one hand, in terms of relationship, I feel gradually separated from my father in recent years. On the other hand, my father is the main sponsor of my studies in the United States. My life, study and creation are closely related to him.
Strangely, I seem to know what my father is doing. But I don't know exactly. I haven't even seen what my father has done for many years. On the other side, my father seems to know that I am doing art. But he has never seen my work except for my undergraduate graduation exhibition. We also never talk to each other about what we are doing. This strange "non-physiological isolation" has been around for many years. My father even asked me if I continued to paint, and I have put down the brush for many years. After graduating from high school, when I no longer have a transcript with specific scores, it seems that we rarely communicate with each other about the detail of each's life.
This tacit father-son relationship made me suddenly speechless. I began to recall the memories of my father, and these memories seemed to be gradually forgotten because of this alienation. But what happened has already existed. And my father and I share these stories but no one wants to mention them again. So in such a loss and sadness, my "family topic" started.
2019年我的父亲来到了50岁的年纪。这个生日也成为我创作的一个重要节点。我突然意识到,我在这几年里花费了太多时间探索这个世界发生了什么而没有关心我的内心的变化。由于我一心走进艺术话题的探索,而减少了和他们相处的时间,另一方面,由于这种物理上的距离的分隔。我的父亲和母亲正在我探索艺术道路的这几年加快的老去。而无论我今天在那里拥有了什么,那都是拜我父母所赐,他们给与了我他们力所能及的最大帮助和支持。所以在完成了"联合斗兽场"那件作品后,我停了下了。认真的回想了我和我的家庭的关系,尤其是我与父亲的关系。因为一方面,关系上,我感觉这几年与父亲逐渐疏远。但是另一方面,父亲又是我在美国学习的主要资助人,我的生活学习和创作又与他息息相关。
奇怪的是,我似乎知道我的父亲在做什么,但也不确切地知道甚至多少年来从未曾亲眼见过。而另一边,我的父亲似乎也知道我在做艺术,但除了我本科的毕业展览外也从没见过我的作品。我们也从不相互谈起正在做的事。这种奇怪的"非生理隔绝"已经存在了多年之久。父亲甚至还问我是否还在继续画画,而我已经放下画笔很多年了。从我高中毕业后,当我不再有一份具体写着分数的成绩单后,我们似乎就很少在交流彼此的事了。
这种"心照不宣"的父子关系让我突然语塞了。我开始回忆我和父亲的记忆,而这些记忆似乎也随着这种疏远而渐渐被我淡忘了。但是发生过的事是已经存在的事实,我和父亲都共享着这些故事只不过没人再想起或提起了。于是在这样的失落与伤感里,我的"家庭话题"就开启了。
Live under the Spring Sunshine
活在春光照耀下
"Unspeakable"
is the first part of works I completed under this theme,
"His Image"
is the second work, and
"Imbalance (tentative name)"
is the third part of this series.
"Unspeakable"
mainly describes my discussion of the barriers and avoidance of common family relationships nowadays. The un-openable storybook represents the interweaving of memories, the mutual entanglement of emotion, and the silence between two generations. The phone that could not be picked up talked about the responsibilities and pressures faced by the two generations when dealing with relationships. Although these two works are based on my personal experience, I tried not to limit the scope of the discussion to my family and make it more universal.
"His Image"
is my exploration of family memory. At the same time, it is also some thinking and salvation to my long-term escaping to family relations problem. I tried to save my lost memory by constantly polishing the image of my father in the carved wood.
"Imbalance (tentative name)"
I am working on is another exploration of the expectations and stumbling between two generations. Just as Atlas lifted the sky with his arms, I lifted the huge heavy device in motion to try to bear his weight and find balance under his movement. When I think about my relationship with my father, I often feel that the two of us have lost balance in the relationship. And my long-term neglect of this unbalanced state has also caused an imbalance in my body and mind. On the one hand, I shoulder the expectations and dreams of my family. On the other hand, I was oppressed by this expectation, and even affected by it. I was tired and lost the focus of my life. The huge rotating device is a symbol of this ongoing imbalance. And I have to shoulder these things and move on.
The lifting here is not a resistance to my father. Because when I lift up the installation, I am confronting the energy generated by the imbalance in the existing relationship, not the relationship with my father itself. The feeling of oppression due to weight is the pressure that I am trying to simulate in this relationship. Or, in other words, when I visualize these pressures and struggles. As a son, I am also acquiescing or re-understanding these pressures and expectations from the previous generation.
"难言之隐"
是我完成这个计划的第一组作品,之后完成的
"他的模样"
是第二件作品,而
"失衡(暂定名)"
是我计划完成的这个计划的第三件作品。
"难言之隐"
主要描述了我对现在普遍存在的在家庭关系的隔阂和回避的探讨。无法打开的故事书代表着存在在两代人之间的回忆交织、相互牵绊和由此而带来的缄默。无法接听的电话则谈论了两代人在处理关系时所面临的责任和压力。虽然这两件作品是由我的个人经历出发的,但是我试图将讨论的范围不只限于我的家庭而更加的普世化,试图让观看我作品的观众也去思考自己与父母的关系和处理关系所面临的境况。
"他的模样"
则是我探索记忆并试图认识默许回避的处理家庭关系的救赎尝试。我通过不断的打磨雕刻印象中父亲的形象来试图挽救内心错失的记忆。
而我正在创作的
"失衡(暂定名)"
则是对两代人之间的期望与牵绊的关系的另一种探索。正如Atlas用双臂托起天空一样,我将运动中的巨大沉重装置托起试图承受他的重量并在他的运动下找到平衡。我在回想我与父亲的关系时,常常感到我们两个人在关系中的许多都失去了平衡。而我长期地忽视这种失衡的状态也让我的我的身体和心理出现了失衡。一方面我肩负着家庭的期望和梦想,另一方面我又被这种期望所压迫着,甚至受到它的影响而疲惫并失去平衡。而巨大的转动的装置正象征着这个正在发生的不断失衡的关系。而我必须要肩负着这些前行。
这里的托举对我而说并不是一种对父亲的抵抗。因为我在托起时对抗的是已经存在的关系中由于失衡而产生的能量,而不是和父亲的关系。而那种因为重量而产生的压迫感,则是我试图模拟这份关系的背后带来的压力。或者说,我在视觉化这些压力和抗争的时候。作为儿子,我也在默许或重新认识这些来自上一代人的压力和期盼。
由于受到疫情的影响,失衡 的制作仍在进行。作品目前完成了一部分。这个作品计划在2020年夏天完成。作品的最终形态将由一个可动装置和一个记录的表演视频组成。但是我关于家庭主题的探讨并没有结束,作为我这段艺术联系的主题,我还在计划其他作品。